New expose reveals British soldiers' blunder that mutilated Kenyan boy
Lisoka Lesasuyan, a 13-year-old Kenyan teenager, lost both arms and an eye in 2015 after picking up an explosive device left behind by British soldiers.
A new report from Declassified shared more information on the circumstances under which the deadly devices were left on Kenyan soil and ended up injuring the 13-year-old.
The report obtained by Declassified showed that there had been an investigation into the type of explosive used in the manufacture of the specific device. The report stated that Tetryl had been used in the making of the device whose mortar rocket blew dismembering Lisoka's arms.
A collage image of BATUK soldiers training in Kenya (LEFT) and white phosphorus fragments distributed in the air (RIGHT).
Case
The report said British military scientists knew Tetryl was unfit for use in 2009 but did not replace it in their training and that is how it ended up in Kenya.
Declassified said the explosive that injured Lisoka was half a century old and may have been improperly stored.
"The manufacture of tetryl has been discontinued in the United States and the United Kingdom due to its serious toxic effects (including fatalities) during manufacture and it is unlikely that manufacture or continued exposure of personnel to tetryl in bulk can be justified," the report said.
The complex also noted that a German arms company had concluded that Tetryl was carcinogenic.
Lesasuyan, lost both arms and an eye when he picked up a rocket mortar from an area of ​​commons used for live-fire training by British and Kenyan soldiers.
The fuze failed to ignite on impact and separated from the mortar and lay dormant until Lesasuyan handled it.
During the investigation, investigators discovered that the firing ranges were unfenced and that British soldiers knew the area was frequented by villagers.
Initially, British soldiers told Lesasuyan's family that the mortar was likely fired by the Kenyan army officer, but an investigation later dispelled this account.
After the Lesasuyan accident, army employees suggested the introduction of leaflets to warn residents of the dangers of the unexploded mortar.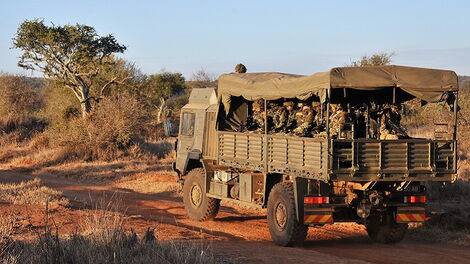 A truck carrying British soldiers during training at Nanyuki.
dead accident armed deadly probe armed