Mohamed Noor: officer who shot 911 caller for reporting rape sentenced to five years in prison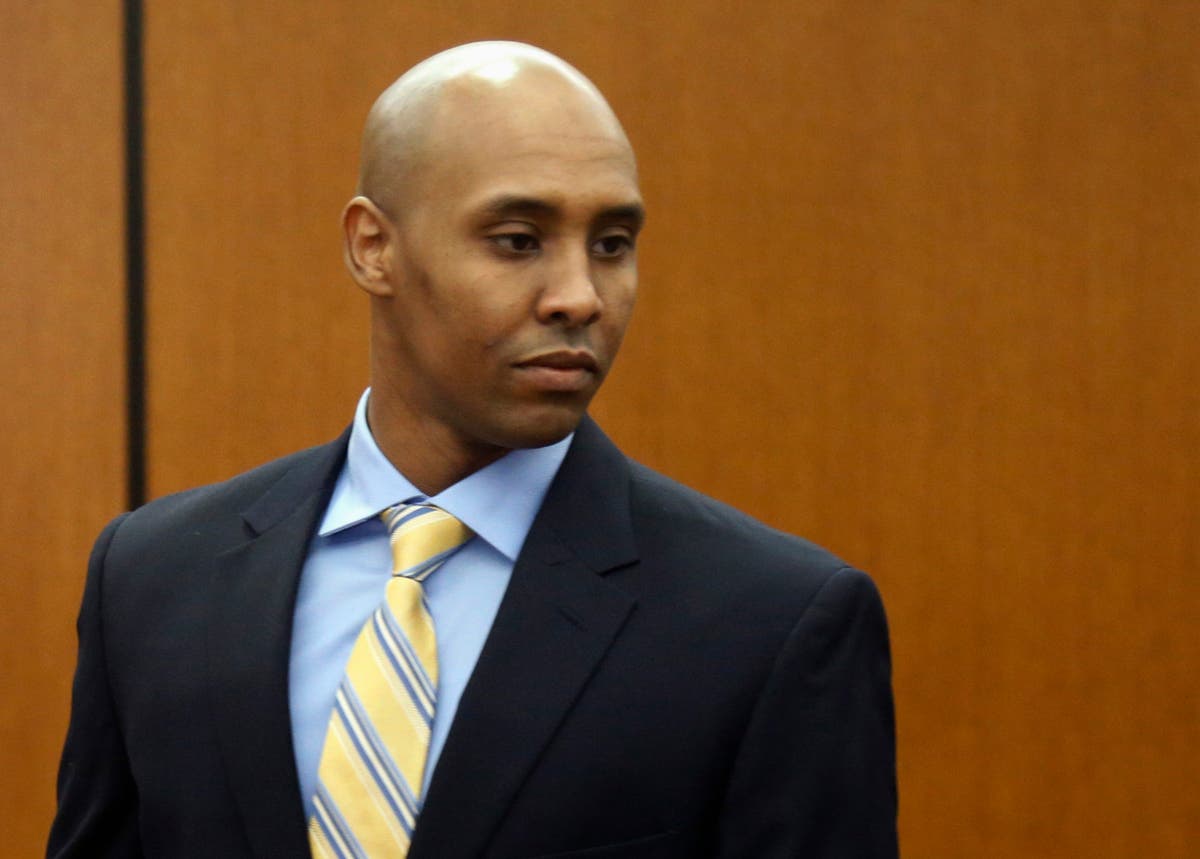 A former Minneapolis police officer who shot dead a 911 caller has been sentenced to nearly five years in prison.
Mohamed Noor was convicted of manslaughter in the death of Justine Ruszczyk Damond, an Australian yoga teacher who called the police in 2017 to report a possible rape near her home. When Noor arrived at the scene, he shot him.
Judge Kathryn Quaintance sentenced Noor to four years and nine months in prison, the maximum possible sentence for the prosecution.
"Mr. Noor, I'm not surprised you were a model prisoner," the judge said, according to the Associated Press. "However, I do not know of any authority that would justify a reduction in your sentence."
The former policeman, who was fired after being charged, has already spent 29 months in prison. Justice Quaintance has ruled that these months will be counted as time served.
Ms Damond, who was 40 when she died, was a yoga and meditation teacher living in Fulton, Minneapolis. She had left Australia there to be with her fiancé, Don Damond, and her 22-year-old son, Zach.
On the night of July 15, 2017, Ms. Damond called 911 to report what she feared was the sound of a rape taking place behind her house. Noor and his partner, Matthew Harrity, drove a police car to the scene, but found no signs of sexual assault.
As Noor and Mr. Harrity were about to leave, Ms. Damond approached the car from the driver's side. At the same time, Mr Harrity later said, a loud noise of something hitting the car startled officers. Noor, in the passenger seat, drew his gun and shot Ms. Damond, who was unarmed, through the open window of the car. She died 20 minutes later.
Ms. Damond had planned to get married in Hawaii the following week. Instead, his family held his memorial service.
"We should be walking the streets smiling and laughing," Ms. Damond's father John Ruszczyk said during the service. "But now every step on the path is very painful. I feel overwhelmed with grief.
Noor was convicted of manslaughter and third degree murder in 2019 and was sentenced to 12 and a half years in prison. But in September of this year, the Minnesota Supreme Court overturned that murder conviction, leaving only the charge of manslaughter.
During the manslaughter conviction, Ms Damond's parents, Mr Ruszczyk and Maryan Heffernan, begged the judge to impose the longest possible sentence.
"Our grief is forever, our lives will always experience a void," they said.
Ms Damond's ex-fiancé also demanded a long sentence and criticized the Supreme Court's overturning of the murder conviction.
"The truth is, Justine should be alive," Mr. Damond said. "No amount of justification, embellishment, cover-up, dishonesty or politics will ever change this truth."
He also said, however, that he forgave the former policeman who killed his fiance. Noor said he appreciated it.
"I am deeply grateful for Mr. Damond's forgiveness," said the former policeman. "I am deeply sorry for the pain I have caused this family, and I will take their advice and be a unifier."