Hampshire police officer David Fuge who recently tackled a shooter is rewarded for his long service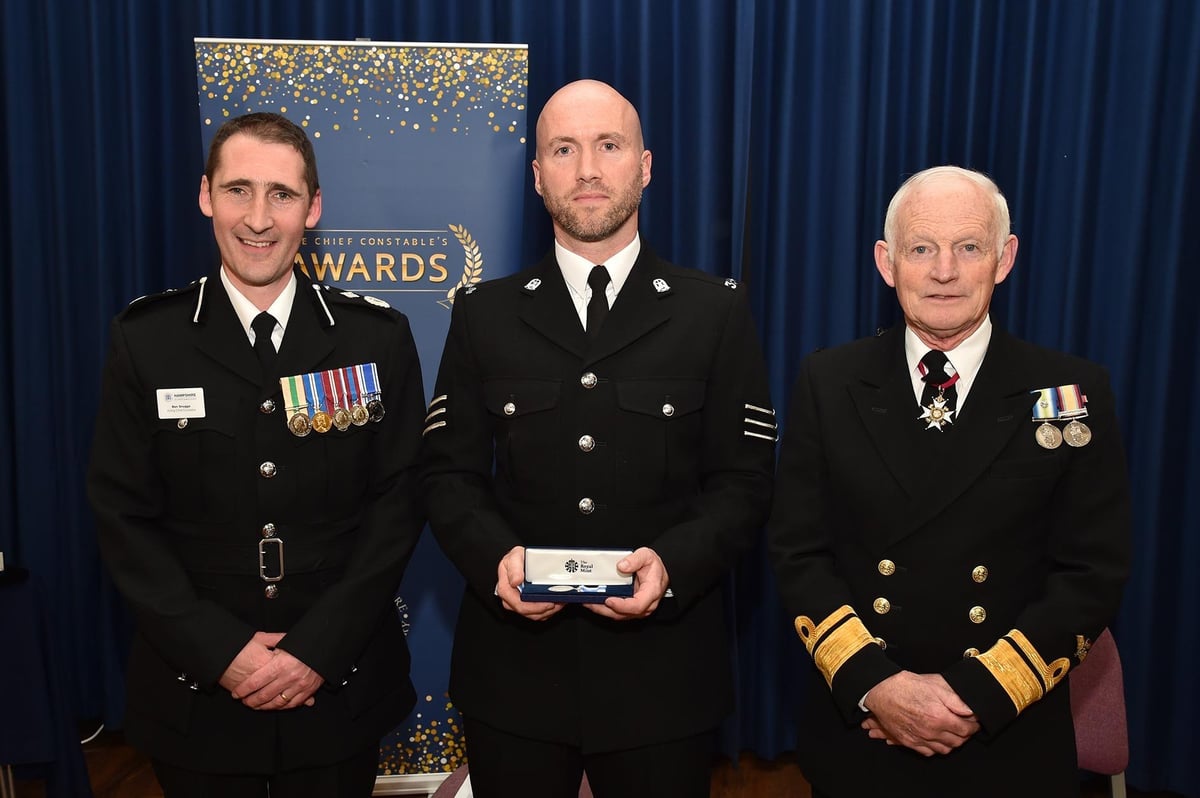 Sgt David Fuge, who served with Hampshire Police for 22 years, was one of several Hampshire and Isle of Wight Police officers and staff to receive long service medals and Good Conduct at the Chief Constable's Awards Ceremony at Police Training Headquarters in Netley on Thursday.
Read more
Read more
Pioneering program launched in Portsmouth to tackle shoplifting, violence and abuse…
He is the third generation of his family to devote his life to public service. His grandfather, William Fuge, was a British Transport Police officer for 27 years while his father, Peter Fuge, spent 37 years in Hampshire Police, before retiring as an inspector.
Acting Chief Constable Ben Snuggs, Sgt David Fuge of the Highways Policing Unit who was decorated for 22 years of service, and Vice Lord Lieutenant Rear Admiral Iain Henderson Picture: Hampshire Police Photo: Jan Brayley/Hampshire Police
Sgt Fuge joined the force in 2000, proudly following in the footsteps of his father and grandfather.
He has held a number of roles, from area drive-through response in Southampton to his current role as a proactive Roads Policing Sergeant in the Joint Operations Roads Policing Unit.
During his service, Sgt Fuge was involved in a number of high profile incidents and investigations and was recently recognized for his bravery when he tackled a man in possession of a firearm. live fire and ammunition.
The Constabulary said that in his 22 years and counting the police service he has shown that he is an inspirational leader who shows great tenacity and dedication to his role, ensuring success of the highly respected Highway Patrol Unit, and we thank him greatly for his continued service.
Sergeant Fuge, 40, said: 'I saw that my father had a good and happy career in the police and decided to follow in his footsteps.
"I am very positive about my career. I've had a fantastic time in different roles, from guard duty to crime squad to area car crews, and there's never been a day that I didn't want to get up and go to work, which is very rare.
"I started training straight out of college at 18, so it was one of my first jobs. I like the variety of work because you go into work not always knowing what you're doing. will do that day.
"I love accountability and I truly make a difference, serving the community by solving crimes, making people's lives happier, supporting victims of crime and simply seeing the positive impact you have on them and being able to put some of their worries to bed.'
Acting Chief Constable Ben Snuggs said: 'I am delighted to have the opportunity to commend all of our officers and staff for their dedication to public service.
'Serving our communities across Hampshire and the Isle of Wight for over 20 years is a huge commitment and I know the Fuge family's legacy in policing spans many generations, which makes it all the more impressive.
"I want to personally thank Sgt Fuge, and all of the recipients of the Long Service and Good Conduct Medals and Long Service Certificates, and those who have done outstanding work in fighting crime, protecting the public and helping us to improve our service."