A joint military burial sees a Canadian, a German and five British soldiers buried in Ypres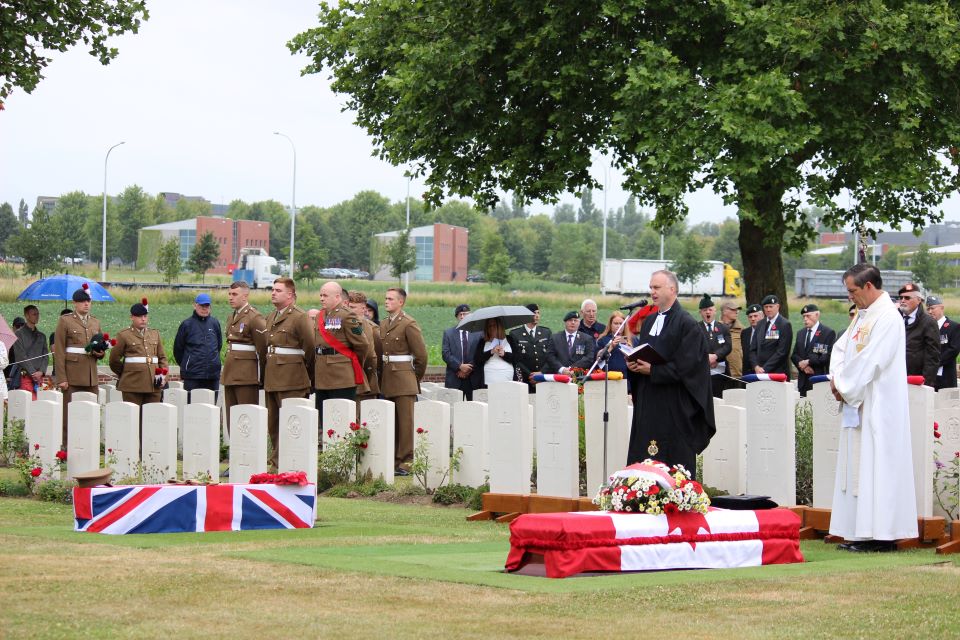 More than a century after their deaths, six Commonwealth soldiers and a German soldier who all lost their lives in the First World War were laid to rest earlier today (Thursday June 30, 2022) in a combined ceremony with the Canadian government.
The Joint Casualty and Compassionate Center (MOD JCCC), commonly known as "MOD War Detectives", organized the service, which was the largest of its kind this year, and it was held at the Commonwealth War Graves Commission ( CWGC) New Irish Agricultural Cemetery in Ypres, Belgium.
The remains were discovered earlier during a scheduled archaeological survey from two separate locations adjacent to each other near the hamlet of St Julien.
A Royal Inniskilling Fusilier, a soldier from Hampshire, a casualty from the Newfoundland Regiment and an unidentified soldier from an unidentified regiment were all included in one set.
Using DNA, Canadian authorities were able to identify their soldier as Private John Lambert of the Newfoundland Regiment, who died on August 16, 1917.
Unfortunately, there were too many deaths on August 16, 1917 in the Royal Inniskilling Fusiliers and the Royal Hampshire Regiment for the JCCC to even attempt an identification.
The remains of three victims were found in the second set: an unidentified Royal Fusilier, an unidentified soldier from an unidentified regiment and an unidentified German soldier.
Unfortunately, it was not possible to determine when they died.
Louise Dorr, MOD JCCC social worker, said:
For us, this has been a difficult and long-term study.
The fact that we were unable to identify either the British soldiers or the German victim makes me personally very sad.
It didn't matter who they were, they were somebody's father, brother, spouse, or son.
We bury our former opponents together, which is really moving.
They all paid the ultimate price of war, and we must never forget their sacrifice.
The First Fusiliers provided the British porters' party and the Royal Irish Regiment provided the musicians.
The Princess of Wales' Royal Regiment provided the gunnery group.
The Royal Fusiliers, Royal Hampshire Regiment and Royal Inniskilling Fusiliers have modern analogues in these three regiments.
Louise also said
Soldiers participating in service today are aware that they are following in the footsteps of those who have gone before them.
Father Shawn Daley of the Canadian Army and the Reverend Gary Watt, Chaplain of the First Fusiliers, jointly led the service.
Seven headstones donated by the CWGC will now serve as headstones for the deceased.
CWGC Director of External Relations Liz Woodfield said:
These soldiers were treated with respect and dignity and today rest among their friends in our cemetery.
While it was not possible to identify the other victims, we pay tribute to the supreme sacrifice they made.
We are honored to be able to officially recognize Private John Lambert.
We will ensure that the graves of these valiant heroes are meticulously cared for forever.
↯↯↯

Read more on the subject on TDPel Media ↯↯↯
Related