30th Armored Brigade Combat Team joins British soldiers for MEDEVAC training | Article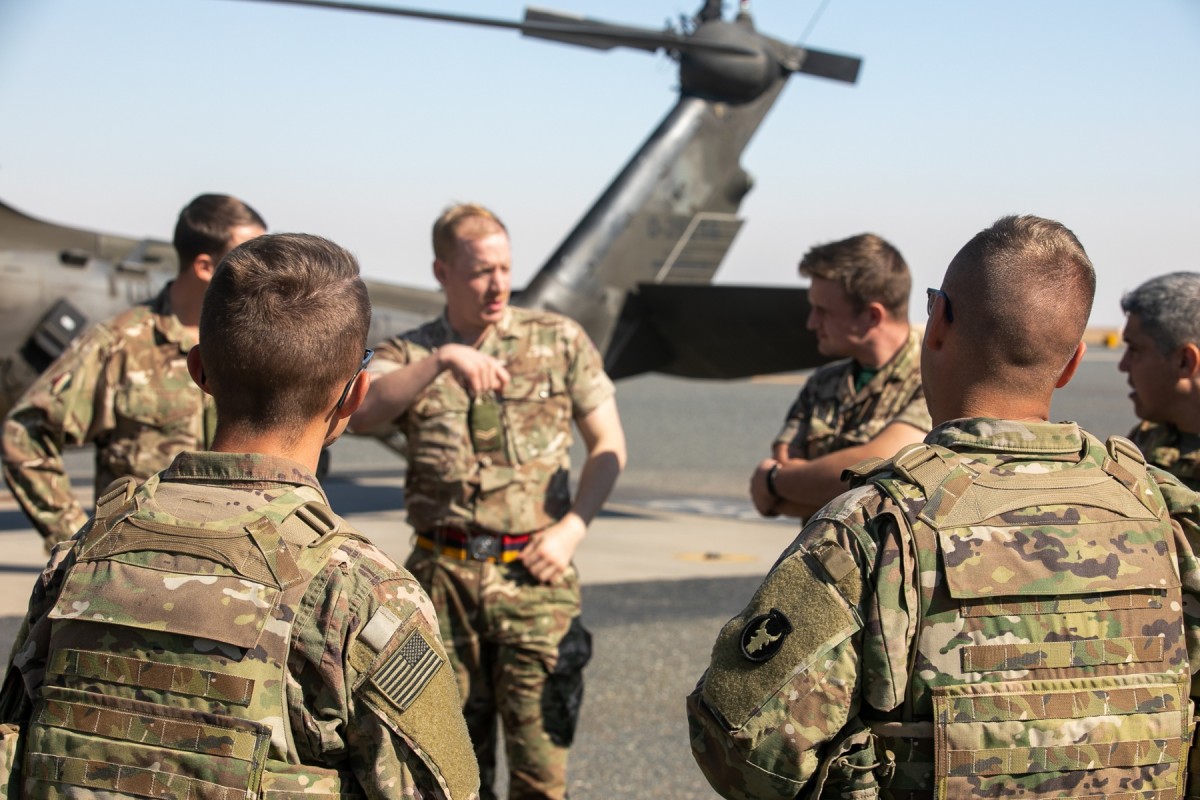 CAMP BUEHRING, Kuwait – "We work a lot with American forces," British Army Capt. Samuel Camp said. "It is important that we are bound to each other's standard operating procedures."
Medical soldiers from the 145th Armored Regiment, 30th Armored Brigade Combat Team joined soldiers from the British Army's 2nd Battalion, Mercian Regiment for Medical Evacuation Training (MEDEVAC) with Golf Company, 5-159 Aviation Regiment, at Camp Buehring, Kuwait, Nov. 23, 2019.
British soldiers were supporting Desert Warrior III, which would include range operations and live-fire training. Camp said it was important he and his team were ready to respond to any emergency and to ensure interoperability between British and American procedures and equipment.
The soldiers practiced what is called a "dusting", that is to say an emergency evacuation of a wounded person from a combat zone. During the training, they lifted a simulated patient onto a stretcher, carried him to the UH-60 Black Hawk helicopter and loaded him inside.
U.S. Army Sgt. Jose Dias, the 5-159 Aviation Regiment combat medic, taught the team proper transport techniques and how to approach and exit the helicopter safely.
"When we're called to respond to a line of nine, we'll do everything we can to care for your patient," Diaz said.
According to Diaz, the helicopter crew as well as the flight doctors, who are certified in intensive care, expect to be on the ground and not leave for more than five minutes, placing safety and urgency as priorities. to take the patient to the next level of care.
British and American soldiers shared some of the differences in their acronyms and discussed various procedures for signaling a helicopter from the ground with signs and smoke.
"It's always great to learn different methods and ways of doing things," said the U.S. Army Sgt. Taylor Drayer, an Ohio National Guard medic in the 145th Armor Regiment. "We were able to compare the ranges and how they work with our helicopters."
"We are in a very good position to conduct our live-fire exercises," Camp said. "Everyone has been so supportive of working with us."
Related links:
Army.mil: National Guard News